Don't take my word for it, here is a snippet of what some of the beautiful people I have had the pleasure of working with have said...
I absolutely recommend Amanda & Find Ur Flow to anyone & everyone! It's becoming clear that relaxation techniques & meditation are essential to a truly holistic approach to health & to enable us to cope with modern life & it's stresses.
Amanda is an excellent teacher & guide. Her style is non-confronting, her voice just dreamy to listen to, and her wisdom amazing.
Most of all, Amanda's genuine passion for sharing her knowledge and skills is unrivalled in my opinion by anyone in this field and the wider health & fitness field.
This woman is capable of changing your life if you'll let her! 5 stars for sure!

Meditation Courses & Workshops
I'd like to share my gratitude to Amanda for the recent meditation course I completed.
​My New Years resolution was to learn about relaxation and meditation. After many failed solo attempts I accepted that I was just someone who wasn't capable of any kind of relaxation/meditation.
Amanda's course presented itself during a stressful time and it turns out I can meditate! What I learnt was there are so many styles of meditation and it was just a matter of finding the right one for me. As well as the styles and history of meditation, Amanda gave me a better understanding of other aspects associated with meditation and this has been so helpful in my journey. I am fully loaded with tools and techniques and I will continue to learn but I am already reaping the benefits.

I truly believed that my life was too busy, much to busy for meditation so it seemed like a chore, Amanda turned what I labelled a chore into a highlight of my day.

The combination of content, cost, length, clarity, and a teacher with a beautiful demeanour turned out to be the best investment I made this year for my mind, body and soul. Thank you so much.
I really didn't know what to expect and I am just so excited about where I am and how I feel after 6 weeks - I can't wait to see what more joy this will bring to my life and my loved ones.
I was talking to a friend about how awesome I feel from doing this course and it made me remember all of a sudden just how much of a bad place I was in right before I started.
It just came back to me today that before this I was feeling very depressed all the time. I had never thought of myself as 'depressed' but I had a massive melt down/extreme sobbing session at the state of feeling so helpless in my life that for the first time ever there were thoughts of feeling of 'not being here' would just be easier, life is too hard. It was a total shock to me as I never ever imagined I would have those thoughts.
I guess it gives me a very good gauge to look back and to see what a difference this has made and how it can change your whole outlook - Life seems so exciting now, just to see another day to feel love & happiness, pure joy in the ease of a simple breath. Thank you for your guidance in finding this new way of life, I am forever grateful.
On a personal note, thank you for the amount of care and love that you poured into the course - I saw it in all the little extra bits - No one else would do all of that (at least that I've experienced), and the little touches were noticed and appreciated. I am so grateful for the opportunity you gave me to learn more about meditation.
Thank you for the brilliant six weeks that I spent in your meditation course. I loved that each session catered for both the novice and the more experienced meditator. Each night was a wonderful mix of information about different styles of meditation, then practicing those styles and sharing experiences in the group. Your attention to detail in provision of information, folders and weekly mantras really showed your dedication to an awesome experience for the group.
You have a beautiful steady voice that guided us calmly through meditations, and you readily answered all questions that we had. Your love of meditation, and of people in general, shines through every aspect of the course, and I would love to do further study and exploration of meditation with you if the opportunity comes up!
Thank you once again for a brilliant Meditation course you held recently. Until now my life has been a constant roller coaster with little thought of what l was doing to my mind or body. Always on the go and never taking time to enjoy the moment. I never thought it possible that I could learn to not only meditate but know when to take time for myself. Now I can, and I do, and I'm finding so much has changed in my life for the better. The course has taught me to let go of the past and enjoy the 'now'.
Thank you so much.

It is important for me to let you know that you have brought more joy to my life through your gift of yoga. You support and challenge me with care and I take on and learn from the beautiful words you share at the end of the class. It is so precious to spend time in your company and be with your (community of) beautiful yogis.
In my short tenure of being a yoga student, I can honestly say that I have thoroughly enjoyed each and every one of Amanda's classes. As a new student, I immediately felt very welcome, safe and at ease - Amanda teaches from the heart and guides us through each movement to encourage an understanding of what the body can and should be doing in the practice.
Her classes are taught to a consistently high standard; well balanced, varied and fun with just the right amount of challenge to keep us present on our mats. Amanda carefully caters to all ages and levels of ability as well as injuries, ensuring a satisfying and safe practice for all. She is friendly, approachable and always has time to chat or answer any queries one may have.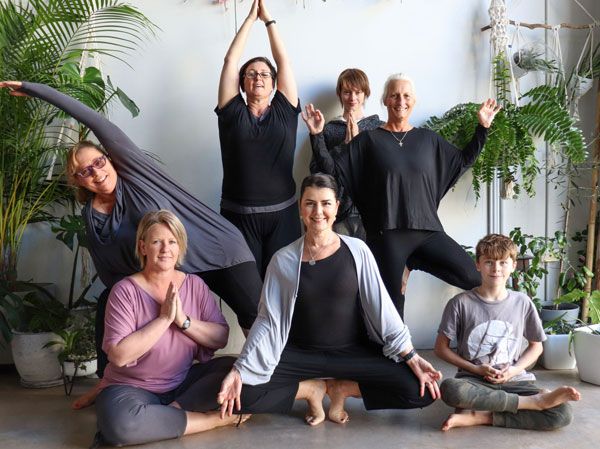 I contract Amanda to teach yoga in a corporate setting... Amanda has introduced us to a forever widening variety of postures and we are loving seeing our practice develop and grow with her capable guidance. We actually love love love her teaching and would employ her 5 days per week if she had room in her schedule for more classes!
Amanda gives wonderfully engaging technical guidance consistently throughout every class. She also has a great awareness of each individual participant's physical history and capabilities and works to adapt their practice in each class accordingly. Our participants range in age from under 10 years (my son) to ladies in their late 60's.

I began Yoga sessions through classes at my Leisure Resort.
I had never previously undertaken Yoga classes, though I had a long history in physical fitness. The classes are excellent and have contributed greatly to my increased awareness of my own capabilities.
As a former leader in Health and Personal Development I know the value of yoga to an individual of any age; as a former teacher I also know the value of excellent teaching in promoting enjoyment and value in the subject matter.
My classes have been presented in a fun and enjoyable manner by a teacher with skill and passion, thorough knowledge of the subject and enthusiasm for the topic. As a result, class numbers have increased and my personal level of satisfaction has also grown.
I have no hesitation in recommending AMANDA BOREHAM as a teacher with excellent skills.
Thank you, Amanda, for the sense of peace and well-being you bring into my life. You are always inspiring us to try a little harder yet stay within our limits. Absolutely love your calm voice and demeanour which encourages us not to be too harsh on ourselves and to love who we are. I leave your classes much calmer and prepared to face whatever life brings.
Assunta Easton ​(Chair Yoga Participant), Cooroy

As a yoga teacher, for me it's your calming presence and the way each and every class flows with such ease. I don't know how you remember everything and your knowledge in your field blows my mind. You are always learning and growing, it's very inspiring.
Our weekend retreat was fabulous, the location perfect, the food absolutely delicious, the program was so well balanced, not rushed or overloaded. You are very appreciated and everyone has felt the benefits of your efforts and love.
Linda Wolfenden, Ridgewood
I would just like to personally thank Amanda for my recent Wellcation experience. Having never experienced meditation before I was unsure if it was something I would appreciate, I am now convinced it can truly change your head space. I am quite a negative person and after my recent weekend at Amanda's Wellcation I am finding I am able to see the positives in my life each day through my journaling.
Small changes make a big impact. You are so very passionate about helping others to get to your "happy place". I thank you from the bottom of my heart. Truly a wonderful experience.
Please try it for yourself.
The passion you have for helping others is admirable. After attending your Wellcation I have learnt to "stop" and "smell the roses". Being a busy working mum I never thought I could take the time for meditation and relaxation techniques but you have shown me it can be done, and quite easily. It has made a big impact on myself and the flow on to my family is awesome. Thank you for this.

I love to introduce people to yoga and meditation. Having had a stroke I understand the value in keeping our bodies healthy and active no matter our age. I create classes that empower people to bring health and happiness into their lives.